Note: All or part of this document may be out of date, caution is advised
Earth Eternal is a free 3D MMORPG based in a fantasy world where animals are the primary inhabitants and humans have long since been extinct. The game was originally set to be released around the middle of 2008.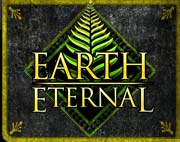 Overview
Edit
The game will be playable from both a browser and by a client download. Adventurers will be roaming the countrysides and exploring the vast world and engaging with each other in an MMORPG environment. Since the world is divided into particular nations, each home to a unique race, some inhabitants will be more or less happy to talk and interact with each other based on your choice of race, class, and location the world.
November 24, 2011 - Earth Eternal and its website are both offline, and the producers are deciding what to do with the game. Quoting the facebook post, the game has "said goodbye."
September 1, 2010 - Earth Eternal forums and game are taken offline.
August 18, 2010 - The Game was sold in an Auction to Iron Realms Entertainment.
August 9, 2010 - Earth Eternal's Developers and Publishers, Spark Play, anounced that they had laid off all employees except CEO Matt Mihaley and another unnamed employee.
October 13, 2009 - The Open Beta Phase (under Sparkplay) opened.
May 18, 2009 - The closed Beta Phase (under Sparkplay) opened.
Sepbember 2007 -All of the chapters of the history were released. There are four classes which have been released : Knight, Mage, Rogue, and Druid. Players will pick a primary class, but after a certain point, you'll be free to start learning some of the abilities in the other classes.
In 2007, Matt Mihaley of Iron Realms Entertainment announced that it was spinning off Sparkplay Media to produce the graphical anthropomorphic MMORPG Earth Eternal.

External Links
Edit